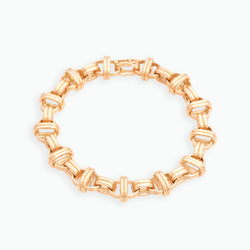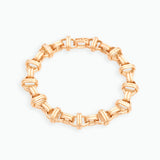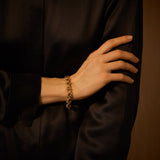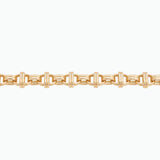 Oval Chain Bracelet 18K Yellow Gold, Medium Link, 7.25"
The Oval Chain Bracelet is designed with two intricate, interlocking circles, designed to be worn with our Tennis bracelets or one's watch. Artisans in Los Angeles craft all jewelry. Please contact us directly to specify which 18k gold color you are interested in purchasing. 
18k Yellow Gold
Made to Order: Available in all 18k Y. Gold, all 18k R. Gold, all 18k W. Gold, and available in 18k Y. Gold with 18k W. Gold, 18k R. Gold with 18k W. Gold
Available in customizable lengths 
Dimensions  : Length: 7.25" (18cm)
Shipping: We offer complimentary overnight domestic shipping with your order once your order has been fulfilled. Please allow 4-6 weeks to receive your order. No international shipping is available. See our Shipping Policy for details.
Returns: See our Returns Policy for details.
Inquiries: We want to hear from you! Contact us and speak to our client consultant to inquire about a product or ask any questions you may have about this or other pieces in our collection. Please send all inquiries to info@shermanfield.com or call us at 310-818-3132, and someone will be in contact with you.
Share