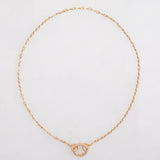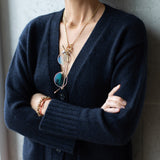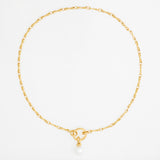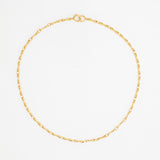 Convertible Column Chain Necklace 18K Yellow Gold, Small Link, 20" with Barre Key Ring
Our Convertible Chain Necklaces can be worn multiple ways: on its own as a chain necklace, worn with the Key Ring with a locket or pendants, or can suspend one's glasses or sunglasses.  Sold with Chain Necklace and Key Ring.
18k Yellow Gold
Made to Order : Available in all 18k Rose Gold or all 18k White Gold 
Handcrafted by artisans in Los Angeles. 
Dimensions : Length: 20"
Shipping : We offer free overnight domestic shipping with your order once your order has been fulfilled. Please allow 4-6 weeks to receive your order.  No international shipping available.  See our Shipping and Returns Policy for details.
Returns : See our Shipping and Returns Policy for details.
Inquiries : We want to hear from you!  Contact us and speak to our client consultant to inquire about a product or ask any questions you may have about this or other pieces in our collection.  Please send all inquiries to info@shermanfield.com and someone will be in contact with you.
Share